shanghai led screen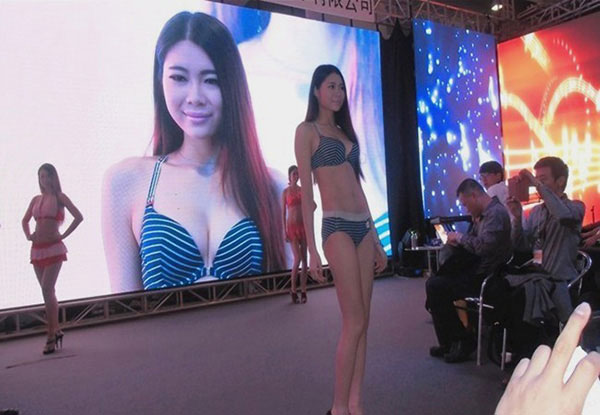 P5 indoor 3 in 1 SMD shanghai LED display, also it is known as indoor full color LED display , indoor full color LED screen, indoor full color screen and so on.
Display content are usually in the form of text, images, video animation to show advertising media, policy propaganda, etc.
Shanghai LED display Functional features
1. The picture is exquisite and reality, color is rich and the impact is strong.
2. It can show two-dimensional and three-dimensional animation (video interface), can broadcast television;
Video shows rich layers, synchronous display with computer.
3. Free to set up the picture residence time, When edit display content. you can see it immediately.
4. Range of application: stadiums, convention and exhibition center,city square, station, schools, the stock market
monitoring and dispatching centers and advertising and entertainment industries departments.
Product advantages of shanghai LED display
Adopt imported high-quality LED chip to manufacture full color LED display screen, with a large
perspective, uniform color and immortality lights, low failure rate, easy to maintain ect..standard
products, production line. International quality, competitive prices.
1. The Price Advantage: Most competitive price for the same model in the market, at the same time,
with the same or even betteer quality.
2. The Performance Advantage: Good uniformity, higher conformity, large view angle, each single color lamp can be repaired.
3. The Quality Advantage: The whole process controllability from material to finished products, from R&D to production,
becomes the gurantee of product quality dependability.
4. The Service Advantage: Much more sound service based on the same terms, and more deep cooperation based on the same service.
Technical parameters of p5 full color led display
| | | | |
| --- | --- | --- | --- |
| Pixel | 5mm | Short circuit protection | Yes |
| Standard cabinet size | 640mm*640mm or design | Refresh | 400 Hz |
| Weight per sqm | 35 Kg/sqm | Changing frame frequency | 60 Hz |
| Whiteness brightness | 1600 cd/sqm | Driving method | Constant driving ,1/16scan |
| Led package | SMD 3in1 | Working Environment | Indoor |
| Wave Angle (H) | 100°(H)/80°(V) | Working temperature | -10~50℃ |
| Best view distance | ≥5m | Working Humidity | -10~90% |
| Working voltage | AC 220v/380v±10%50~60Hz | Out of control | 1/10,000 ( scattered) |
| Power consumption/ m2 | 240W/sqm | lifetime | 100,000 hours |